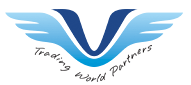 Our Logo acts as familiar base for all that our work conveys. This is our front facing identity which identifies our work culture.
"We" factor - Our logo comprises of the alphabet "V" which we believe conveys the We factor of togetherness in creating a better tomorrow.
Visual Delight - Our logo indicates two birds flying together, one is the team at Vivid and the other is the clientele. Both flying high and moving towards the destination desired.
Colour Craft - The two colours of the logo are from the same colour pallete which shows that we cater to different segments of the trade and industry.
Vivid Visions logo truly identifies with the bird that is taking the flight of the future.